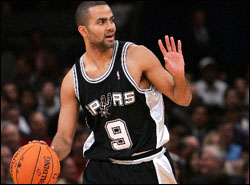 Tony Parker is not playing for France in the FIBA World Championships this summer. He is staying in, chilling with his wife, getting healthy, and working out like mad.
Why? Because it's now or never for the Spurs and he wants to be ready, Parker told Lang Whitaker of SLAM.
Hopefully we'll make some tweaks (to the roster) and get better and try to improve our team, because I think next year, realistically, is our last chance to try and make a run at a championship. Timmy's getting older and he's the anchor of our team, so I think realistically it's our last chance with our core, with our team.
Tiago Splitter could be a tweak that would help. A lot. But another tweak that gets mentioned is possibly trading Tony Parker to get another big man (and letting George Hill run the show). Parker is not a fan of that.
Me, hopefully I'll be in San Antonio next year and then we'll see what happens.
So to sum up, Parker is going to take the summer off to hang out with his wife Eva Longoria-Parker all summer. And work out. So he can go back to a championship-caliber NBA team next season.
Not a bad life.