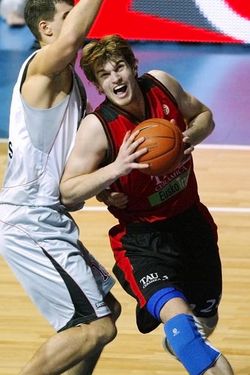 Tiago Splitter could be the Spurs savior.
San Antonio wants to make one more run with Tim Duncan at the heart of the lineup, but these playoffs showed that even with Tony Parker and Manu Ginobili the team isn't there.
Splitter could change that.
He is the best center in Europe, skilled and physical. He just helped lead Saski Baskonia to the Spanish League title this week. While his contract has two more years he can opt out right now, and a quote on noticiasdealava.com shows he is debating if his future is in Spain or San Antonio.
"We still do not know what I do. If it was my last game is the best way to say goodbye, but right now I do not know what to do. I have to think and see what is best for me and my family. I have yet two-year contract and an option to leave, but I do not know what will happen. "
Splitter — who is generally considered able to walk in tomorrow and be a quality NBA starter — would give the Spurs the big man they need to pair with Duncan along the front line. He'd be another weapon. Suddenly the Spurs would be better, deeper and younger.
With him and another move or two, the Spurs could be contenders again. Without him… well, it's not easy to climb Everest without a Sherpa.