Point guard was a weak spot or Memphis last season. It was one of their least productive spots on offense. It was where they got burned a lot defensively. It is one position the Grizzlies need to improve for next year.
Enter O.J. Mayo.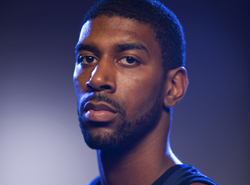 The team's starting two guard is spending the summer in Memphis working with coaches on his point guard skills so he can slide over to that spot more next season, he told the Commercial Appeal.
"I'm not scared to say that I'm not the best point guard right now," said Mayo, who is in Memphis and working out. "I'm probably horrible right now mainly because I haven't played with the ball in three years. But I think through repetition I can be good."

"I've been telling some of the guys on the team that I'm not going to be a perfect point guard right away," Mayo said. "But I think I'll get better. I just have to have the opportunity. I'm not trying to step on the heels of Mike Conley. I just want to get better so I can stay on the floor."
Mayo said he may even play a couple Summer League games just to work on those skills.
Mike Conley will still be the starter next year. The last couple months of the season Conley came along to be a solid starter and Memphis is looking for him to carry that over, not revert to the guy from the beginning of last season. Nobody wants to see that Conley again.
But if Mayo can play some point as a backup, all the better. It keeps a dangerous scorer on the floor and provides some versatility, although we'll see how Mayo adjusts to being the primary distributor not the primary scorer.
But the fact he is putting in the work is good for the Griz.