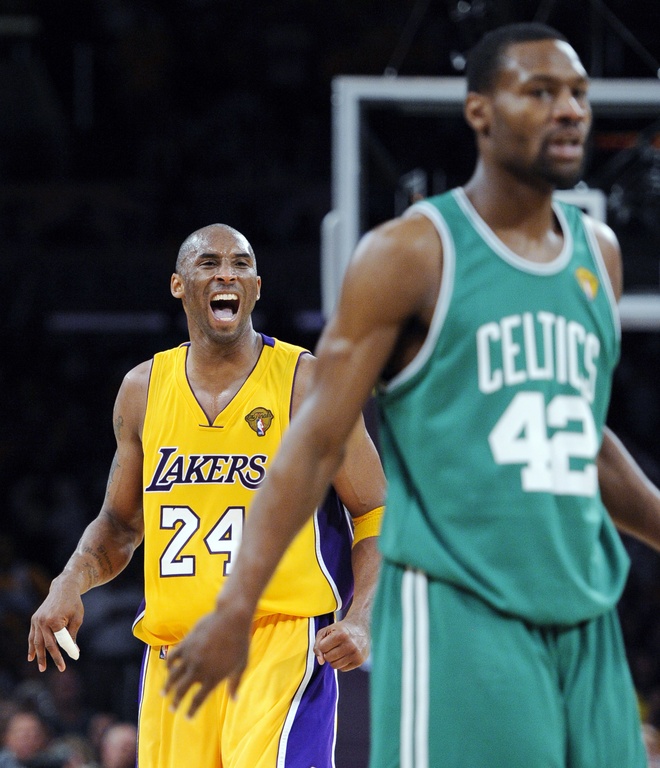 A collection of thoughts on Lakers-Celtics Game 6…
You're all familiar with "Tremors", right? Classic mid-90's comedy horror film about gigantic sand-worm-like creatures that come up from the ground and suck people into the earth, eating them? Yeah, the Lakers were a lot like that tonight.
They overwhelmed Boston from the beginning, and you could see why. All their defensive lapses were gone. Most telling was actually their perimeter defense, not their interior, surprisingly. The Lakers simply cut off all the angles, getting back to their style of using their insanely long limbs to interfere with passing lanes and obstruct vision, constantly forcing resets of the offense on the perimeter.
When the Celtics did manage penetration, they had to slide past the first defender and over the second. Just as the Lakers' defense is supposed to work. No drive and kick opportunities were available with weakside help coming from the perimeter, essentially trapping the ball mid-air.
Now, all of that on its own isn't enough for this kind of blowout. The Lakers got help from the Gods. Celtics don't miss layups. Celtics don't settle for long range jumpers early in shot clock, and Sasha Vujacic does not shoot 50% from the field. These things do not happen without divine intervention. But then again, the same can be said for the Shrek and Donkey game, for Pau Gasol going MIA, and for the Ron Artest zaniness (well, the last one, maybe not). Things go both ways in a seven game series. That's why it goes seven.
The momentum did shift way too much for Boston to be comfortable tonight. There's the feeling of "we let them get this one" and then there's "they stole our lunch money, pushed us in a puddle, sprained our center's knee, and then spat on us." And the Lakers spat and spat. They're now lacking interior depth with Perkins potentially out, struggling from the field again, turnover prone, and looking overwhelmed by a home crowd that, very honestly, has never been all that good. But they were loud tonight, and fed off the Lakers run. If there's anything that will get the Staples crowd to care (besides tacos), it's beating the crap out of the Celtics.
Here's a fun one. Here is the combined, sum percentage for Rajon Rondo's field goal percentage, three point percentage, and free throw percentage. 33%. Combined. 0-1 from 3-point land, 0-2 from the stripe. 10 points, 6 assists, and an absolutely horrible night, encapsulated by the missed dunk of his in the third quarter. If it wasn't over (and it was over), it was over, then.
Pau Gasol is alive, and back to being dominant. Those assists are so vital. Working out of the high post, whipping cut passes, overreaching down low, tossing off easy ones, the Spaniard had the whole thing going. Just a brilliant performance, one worthy of the crowd. Or Oklahoma City's. Somewhere loud and on time.
Bryant took 19 shots but also had 9 rebounds, and worked in the flow of the game. He passed to open teammates, working to create high quality shots, and didn't try and take the game over. A performance worthy of his soon to be Finals MVP trophy.
Seriously. Up from the ground. Ate them alive.