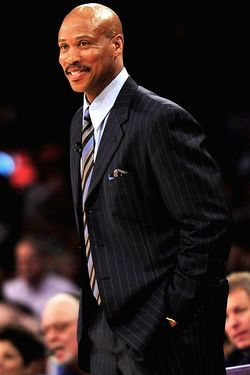 And behind curtain number two we have….
No idea.
Byron Scott is the only other name we know. But now that Tom Izzo has made the smart play and decided not to risk one of the better jobs in college basketball on the whims of LeBron James, the Cavaliers could go back to square one on their search.
First things first — this is Dan Gilbert's boat and he is steering the coaching search. He wanted to take some power back from Danny Ferry, so Ferry is out. Gilbert is the Michigan State alum who went after Izzo by opeining up the checkbook. Gilbert is the one at the helm, wherever this ship is headed.
Byron Scott is the obvious next in line, he has had a couple interviews already. LeBron wants to play for a proven NBA winner, Scott is that. He has been to the NBA finals twice and coached the likes of Jason Kidd and Chris Paul. He fits the bill.
But if Gilbert called up today and offered Scott the job, would he accept? The one job Scott pretty openly covets more than any other — even the chance to coach LeBron — is Los Angeles Lakers. If Phil Jackson decided he likes his ranch in Montana better than worrying about Andrew Bynum's knees every spring, Scott would be near the top of the list of replacements.
Jackson said he would let the Lakers know if he plans to come back within a week of the NBA finals ending. We're pretty sure they will end Thursday night. Scott might try to stall Gilbert until it was confirmed that Jackson was coming back (and he probably is coming back).
ESPN's Marc Stein says Gilbert wants a coach in place by July 1. If so (and Stein is reliable), then the Cavs have to move fast. There are no other name coaches on the market. Scott seems like the call. But nobody knows where the good ship Cavaliers is sailing right now.