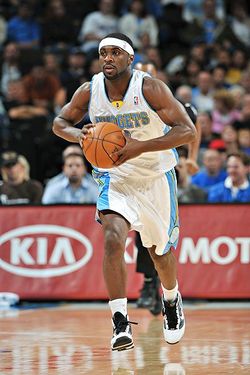 We told you yesterday that the Denver Nuggets were looking for a top 10 pick and they were dangling Ty Lawson as the bait.
The Indiana Pacers are nibbling, according to Mike Wells at the Indianapolis Star.
The Pacers are interested in Lawson, according to a source. The Pacers are willing to give up their pick – No. 10 – in next week's draft to get player that will help them immediately.
This makes a ton of sense for Indiana — they want to play an up-tempo style but T.J. Ford is not the man to run it. The Pacers looked lost, confused and generally sloppy in transition. Lawson proved — both in college at North Carolina and as a rookie in Denver — to be at his best in the open court. Lawson could step in as a starter and instantly make the Pacers better.
But does this make a lot of sense for Denver? According to our NBCSports mock draft, the big men left on the board at 10 are Baylor's Epke Udoh, Marshal's Hassan Whiteside, Kentucky's Patrick Patterson and VCU's Larry Sanders. Another guy who could be there is Cole Aldrich of Kansas. A group of potential role players and projects.
None of those guys strike me as worth Ty Lawson, who is a pretty valuable chip to have. We'll see how desperate Denver is to add that big man through the draft.