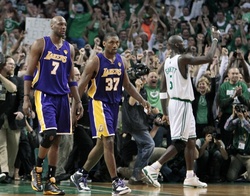 What do you do when things aren't working?
Because things are not working for the Lakers. In a series that was going to be decided inside, Boston is wining the war. The Lakers shot just 47 percent (8 of 17) at the rim last game. That is 47 percent on layups and tip ins. The Lakers had a lot of offensive rebounds (16) but they had a lot of chances. In Game 4 the Lakers had played better defense, but it was the Celtics who grabbed 16 offensive boards.
The result has been a lot of jump shots. Particularly by Kobe Bryant.
So what do the Lakers do?
They go back to the beginning. To the basics. They have to do what got them to three consecutive NBA finals. And that is not Kobe as the ball handler on the pick-and-roll.
First, run the triangle offense. There is a counter in the offense to everything, but it requires people moving off the ball and quick passes from the strong to the weak side. The Lakers have stopped doing that. They have become another pick-and-roll team, and if you do that against the Celtics they will eat you alive with their overload.
Part of that is Pau Gasol making plays. Rambis is right. He seems tired, worn down from the relentlessness and physicality of the Celtics. He has to be the guy who pushes back, gets into the paint, and starts that fast ball movement. He is the guy that makes the triangle go.
Then the Lakers have to defend. That starts on offense — the Lakers misses and turnovers fuel a Celtics running game. Both teams need to run, both teams need easy baskets to win these games, but only Boston has gotten them the last couple of games.
After that the Lakers need to pressure the ball and create more turnovers (then turn that into their own fast break points). Then they have to protect the rim. That is what Andrew Bynum did when he had two working knees, now it has to be a team effort.
Kobe going nova Kobe wouldn't hurt, but if he doesn't get some help it's moot. He is going to draw defenders and hit ridiculous shots, but that has to open things up for Lamar Odom or Ron Artest or Derek Fisher or someone to step up or it is pointless.
One thing these Lakers have shown consistently in the past two years — they really only play their best when their backs are against the wall. It's not just a December game in Memphis where they don't put it all together, it's playoff games as well. They have to be pressed to really focus.
We'll find out tonight if the Lakers can focus on the basics again, if they can go back to the beginning. Or if they can start focusing on their golf games.