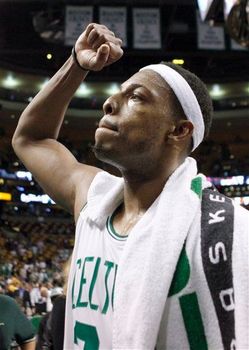 There's the math, and then there is the reality.
The math says Boston needs to win just one of the two games in Los Angeles to win the title. They won Game 2, they've proven they can win on this floor. History says they can do it — the won a Game 7 in Los Angles back in 1969.
The reality is the Celtics want no part of a Game 7.
Right now, the Celtics have the Lakers frustrated and on the ropes. Their defensive intensity has left the Lakers dumbfounded on offense, forcing Kobe Bryant to try and do it all himself. The Celtics bench brings the energy the Lakers do not. Boston has all the momentum.
Lose Game 6 and that momentum swings. The Lakers become confident again. Plus, home teams win Game 7s more often than the Celtics want to think about.
Boston has done a fantastic job on defense, realizing that Andrew Bynum is not a real threat right now and no longer fearing to help off of him as they did in the first couple games. The Lakers don't have an answer for that — Boston has worn down Pau Gasol with the tag team of Kendrick Perkins and Kevin Garnett. Bynum can't help. Lamar Odom is… Lamar Odom. Ron Artest is in the corner hesitating then shooting threes.
Boston needs to come out, set the tone defensively tonight, keep the Lakers on the perimeter. Own the paint. Boston has to continue to dominate on the glass, they need to board like madmen. Then they need to run, to get Rajon Rondo in the open court and Paul Pierce at the three-point line. The Celtics need to get back in transition defense — they are not going to shoot like they did in Game 5, and the Lakers will be looking to get some easy buckets. Boston needs to get them to slow down and face their half-court defense. Which is a wall.
Boston needs to do it tonight. A Game 7 can be fluky, can turn on little things and lucky bounces. The kind of things that go to the home team. The kind of things that go to a confident team. Right now, the Lakers are not that. Close them out in Game 6 and the get banner 18. Keep the momentum.
Because if the Lakers get confident, if they feel they have figured it out, if they force a Game 7, things will feel very different. They will look different. Plus Boston doesn't really want to risk facing what Kobe Bryant could do in one game with it all on the line.