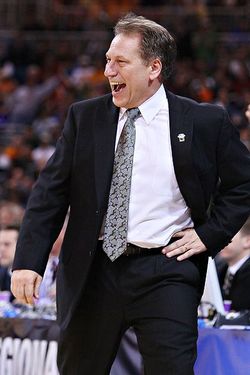 It has been the biggest lingering question about the Cavaliers pursuit of Michigan State coach Tom Izzo to take their head job: What would LeBron James think? Because right now all things Cavaliers revolve around what LeBron James wants and thinks. When they order new pens for the Cavaliers offices they ask, "What color pens does LeBron like best?"
On the coaching front, LeBron likes Izzo, according to Brian Windhorst at the Cleveland Plain Dealer. And Windhorst has more sources than the CIA. Or at least more reliable ones.
James would "100 percent endorse" Izzo as the coach, Windhorst's source reports.
Previous reports had suggested James wanted a successful former NBA coach to be his next coach. Someone with experience at the highest level. Izzo, while very respected, has never coached an NBA game. But apparently LeBron likes him.
But that doesn't mean that James or Izzo have made any kind of decision.
James has spent two years working to keep his options open; he's not going to change that for Izzo or any other coach. It may influence his decision, but James wants to be wooed, and he is not giving that up.
Meanwhile, Izzo watch 2010 rolls on. And on. And on.
WLNS, a Lansing television station, reports that Izzo wants to talk to James, and that having not happened yet is one of the delays in the decision making process for Izzo.
Izzo does start his youth basketball camp in Lansing today. Somehow I don't expect him to make announcement to a bunch of fifth graders first.