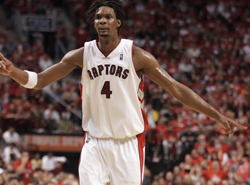 Toronto has become Cleveland north.
"Seriously, we'll totally remake our roster if you'll stay. What do you want, a real point guard? We'll get you one. More help inside? We're on it. Want a couple more alternate uniforms, too? Whatever you ask. Please just don't leave."
Toronto is in the midst of a massive roster changeover — hopefully to one that plays a little defense — in hopes of convincing Chris Bosh to stay. But whether he stays or goes the Raptors need changes. So Toronto has been the most active team in the league in terms of looking for a trade before free agency starts, according to ESPN's Chad Ford writing at True Hoop.
Obviously the Raptors would like to keep Bosh, and, according to a Raptors source, they are attempting to clean house now to show him they can surround him with a more competitive team…

Meanwhile, the Raptors are not just sitting around. Rather, (Toronto General Manager Bryan) Colangelo is shopping Hedo Turkoglu, Jose Calderon and Jarrett Jack with an eye toward making trades before July 1. The same source told me that a Turkoglu trade was already in the works and could happen by the draft.
If Colangelo has found someone to take on Turkoglu's bloated contract, he really is working it.
But Ford also reports that Colangelo is working hard to buy more draft picks, something that suggests he thinks Toronto may not be able to keep Bosh. If he were staying, the Raptors need to get into more of a win-now mode, not develop late first rounders. But if Bosh were leaving, Toronto would be totally rebuilding.
With all the teams trying to either rebuild or make an elite free agent happy, look for a lot of trades around the draft. Probably a few surprising ones. Like finding a taker for Turkoglu.