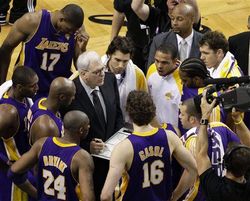 This is what Phil Jackson (wearing a mic) told his team during a fourth-quarter time out, as the Lakers were making a fourth-quarter run.
"(Boston) loses more games in the fourth quarter than any team in the league. They know how to lose games, and they're showing us that now."
They also know how to win games. They were winning all the 50/50 balls. Kevin Garnett is going into a pile with three Lakers and coming out of it with a jump ball. (Which he lost to Derek Fisher, another sign of how weird this series has become.)
Paul Pierce was catching bad-decision inbound passes then hitting a streaking Rajon Rondo going to the hoop. Kendrick Perkins was coming down with offensive rebounds when the game was on the line. Rondo was diving into the crown to save balls, then he was out-jumping two taller Lakers for offensive rebound tip-ins.
We have seen flashes of that from the Lakers in their wins, but not in the last two games. Lately all the energy, all the hustle plays have been Boston's. The Celtics have been the scrappy ones. At this point in the series, the teams know each other so well there are no real Xs and Os adjustments to make, it is all about execution and hustle plays.
Boston made them in the fourth quarter. And if they make them in the fourth quarter Tuesday night they will hang banner 18.