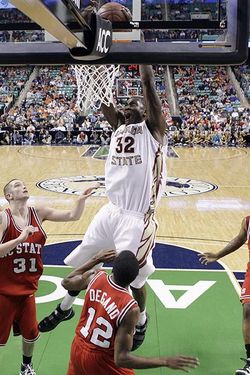 When drafting a project big man in the first round — someone like Florida State's Solomon Alabi — the key question has to be work ethic. Is he going to be happy just to make the NBA and luxuriate in the perks that come with the job, or does he genuinely want to get better?
David Thorpe, Executive Director of the Pro Training Center and ESPN analyst, worked out Alabi and in an interview at Raptors Republic gave him about the highest work ethic honor you could — comparing him to Joakim Noah.
Noah is the same player in practice you see on the court in games, and that kind of relentless effort makes a team work harder ad play better.
"I think Alabi, like Noah, has the chance to be that kind of guy," Thorpe said.
The NBCSports.com mock draft has Alabi going at No. 25 to the Hawks (who could certainly use a shot-blocking center). He may have moved up since the NBA Draft Combine and some reportedly impressive workouts, maybe going as high as 19 to Boston.
Alabi had a good athlete, he measured taller than anyone in the combine — 7'1″ with a 7'5″ wingspan. However, he is not fast, he was the slowest player at the combine, and finished dead last in the lane agility drill.
Yet the scouts love him. In part because he has a good offensive game, Thorpe saying he has a consistent jumper out to 18 feet. He could come in and be a bench big you can run the pick-and-pop with and get some defense.
Alabi is very raw with his offensive moves in the post. And the native Nigerian only started playing basketball at 15, so there are questions about how high his ceiling really is.
But an energy guy who is a legit center who can block shots and has a midrange game? And comes with incredible energy? This may be a project worth taking on.