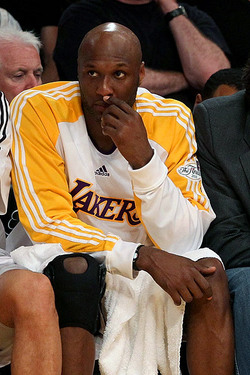 Andrew Bynum is going to play. He had his knee drained of more fluid, and he is in the full "I will play through the pain" warrior mode we fans expect from athletes. He will be in the Lakers starting five tonight.
But he was out on the court Thursday night, too. For all of 12 minutes, time that included Kevin Garnett going over the top to block one of his shots. Bynum tried but had nothing to give, and Los Angeles could not adjust.
What happens if it is the same thing tonight? What if Bynum's mind is willing but his flesh is weak? What can the Celtics do? What can the Lakers do?
First, there are a few out there who still think Bynum's presence doesn't matter that much. They are wrong. So far in the finals, the Lakers are outscoring the Celtics by about 5 points per 48 minutes when Bynum is on the court, the Celtics are outscoring the Lakers by 5 per 48 when he sits. With Bynum on the bench, the more physical Kendrick Perkins can make things difficult on Pau Gasol, while Kevin Garnett takes Lamar Odom out of the game (Odom does some of that himself). The Lakers bench gets thinner. The Lakers are not nearly as good.
So how do the Lakers adjust?
It has to start with Odom. I compare Odom to rolling dice at the craps table — over 1,000 rolls I can tell you pretty much what the numbers will be, but on any one given roll it is purely random. Game to game, Odom is random.
This series he has not attacked — he had Glen "Big Baby" Davis on him for extended periods of Game 4 but did try to take him off the dribble (Davis is nimble for a big man but Odom should be able to take him). On defense, Odom crowded Davis outside and allowed Davis to use his quick first step to get by him and to the rim. Davis shoots 33 percent from 10 to 16 feet and 35 percent beyond that. Live with the jumper.
Odom needs to attack on offense, grab rebounds and lead the break. He needs to defend.
Beyond that, the Lakers should go with more Luke Walton — he helps the offense flow but never saw the court in Game 4 — and maybe even give Josh Powell some run and tell him to be physical.
Finally, the Lakers should run more. So should the Celtics. Whichever team is getting the easy points in transition is getting the wins. It is the bellwether of this series (that and rebounds, but you need the rebounds to run).
Boston needs to attack off the dribble when Bynum is out. His long arms defend the rim well, but Gasol and Odom do not. Boston needs to test Bynum early, ideally by making him rotate over to take on a driving Rajon Rondo. The Celtics need to get Bynum on the move, because he can't. Run some pick and rolls with his man, something both Utah and Phoenix did with success against him.
If draining the knee means that Bynum can play a solid 25 minutes for the Lakers, it is a huge plus for them. But if he can't go, it's the team that adjusts that will head back to Los Angeles up 3-2.