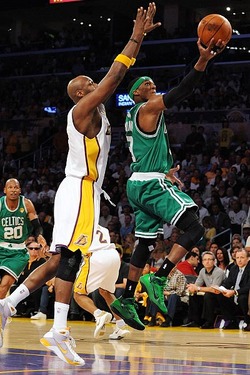 Rajon Rondo has arguably been the MVP of the playoffs up until the Finals. He has been brilliant, dominant at both ends of the floor. He's been so good that smart, reasonable people, like myself, lost their minds and actually started wondering if Rondo was the best point guard in the league.
And he's been severely limited by such a simple element of basketball. Free throws.
ESPN's Chris Forsberg reports in the Daily Dime that Doc Rivers has started wondering if Rondo's lack of aggressiveness in going to the rim against Pau Gasol and Andrew Bynum is due to his 26.7% free throw shooting in the Finals. Worse than 30% for a point guard. Yeesh. From Doc's mouth to your eyes:
"Just in Game 3, I thought was the only game," said Rivers. "I thought
he just tended not to drive more. But I thought he went right back to
it. So that's how much he's grown. A year ago or two years ago, that may
have been the last layup of the series and [Thursday] night in the
third quarter he came out, he was aggressive, he was attacking, and
that's who he has to be."
Rivers says he responded in Game 4 and that he expects Rondo to go back to his dominant ways for the rest of the series. But with that in mind, the Lakers have done a good job of distributing fouls, and with this in mind, they're likely to lower the boom on Rondo if he enters the paint.
On the flip side, if Rondo starts knocking them down, it's only going to fuel his efforts. Once Rondo slices and dices the Lakers a few times by getting and-ones or converting both free throws, it's going to force them to adjust to him. And that's where the Celtics will get what they've been looking for, open looks for the Big 3. That's the best model for them to win this series. Force the Lakers to adapt to their offense and then torch them with their advanced weaponry. Heart and perseverance will take you a long way but not to the title.
Rondo can be the deciding factor in this series for the Celtics. But he's got to knock them down at the stripe.