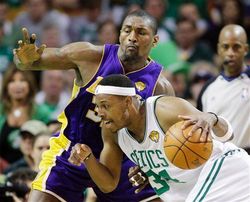 Boston's defense showed up big time — holding the Lakers to 39 points on 33 percent shooting.
Meanwhile, the Celtics are shooting 66 percent and they are getting out in transition. Rajon Rondo has 10 points, Paul Pierce had 15 and the bench did well again.
Yet the Celtics lead only by 6, 45-39. That could bode well for a Lakers comeback, or it could just be a matter of time until the Celtics blow it open. But good luck predicting anything in this series.
The key reason the Lakers are hanging around are the 11 Celtics turnovers, a number of them on the break when they were trying to get easy baskets off the Lakers misses. There also were the 8 Lakers offensive rebounds leading to 10 second chance points. The Lakers are doing their job in the paint.
But they are not on defense, and the Celtics are just hitting shots and really feeling it. Twice the Lakers forced Paul Pierce to stop his shot, reload and take a hesitation jumper. Both times he nailed it. Pierce is 7 of 10 from the floor this half.
Rondo is 5 of 8, Kevin Garnett 3 of 3. The Celtics getting their shots.
Kobe has 10 points for the Lakers but needed 12 shots to get it. Gasol is 1 of 4 for 2 points. The Lakers need Gasol to open up things for Kobe, or even if the Celtics shooting comes back to earth it won't matter. And the Celtics will head back to LA up 3-2.