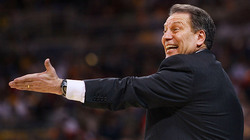 At this point, these Tom Izzo updates hurt us as much as they hurt you.
This is an update to tell you that the Michigan State coach responded to texts from the AP with the cryptic "still gathering."
What's he gathering,exactly?
The people? News? Rain? Crops?
"Our sources indicate Tom Izzo is gathering tomatoes for this afternoon's BLT's. We take this is as a sign he'll be staying at MSU"- Major College Basketball writer.
So don't expect an answer on this today. It looks like the good ship Izzo Ridiculous will be sailing the seas of the Cavs shore for a few more days.
At this point, the Cavaliers may do just as well to move on from a respect standpoint. They're essentially being jerked around for five days by a college coach that's made his reputation by maximizing the efforts of non-NBA talents. Izzo's a terrific coach and would make for a great hire, but considering the rumors that LeBron James would want veteran NBA coaches as assistants at least, and you have to wonder if all this is worth it.
On the other hand, you get the feeling that the longer this goes on, the more he's leaning towards it and it's just difficult to pull the trigger. Of course, we've read about a million reports and Twitter comments from prominent basketball writers, all claiming "sources close to Izzo" that the longer this goes, the more likely it is that he's going to stay at Michigan State. Somebody's wrong. At this point, there's really nothing you can trust, other than what Izzo says.
And he's basically a Sphinx at this point.
"Which creature in the morning goes on four legs, at mid-day on two, and in the evening upon three, and the more legs it has, the weaker it be?"
The answer, of course, is Glen Davis, but that's neither here or there.
Stay tuned for the latest on Tom Izzo, when we check in on how his brother's neighbor's cousin's gynecologist said they saw a "Witness" shirt in the back of his car."
Tom, we're begging you. End our misery.