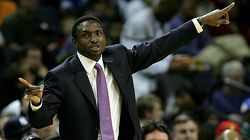 When the New Jersey Nets hired Avery Johnson earlier this week, it came with quite a few backhanded compliments. "Great regular season coach." "Lot of potential." "Fiery guy."
All of these purposefully ignore the elephant in the room to make it seem bigger than it is. Johnson's teams had terrible playoff results. The discussion of the inordinate amount of things that had to go wrong for Johnson's teams to succumb in the post-season is a topic for another day. The fact is that Johnson had tremendous success, has the respect of the players, and comes very highly recommended. 
How recommended? Ask four time NBA champion head coach Gregg Popovich, who knew long ago that Johnson was destined for the clipboard when his playing days were done. 
In an
in-depth piece with the New Jersey Star Ledger's Dave D'Allessandro
, Popovich relates his relationship with "The Little General" dating back to 1991. He talks about Johnson joining the Warriors after Pop recommended him to head coach Don Nelson, and most telling, the progression of Johnson, even as a player, towards the bench. It is stunning, not only for the fact that Gregg Popovich, the Gregg Popovich, actually speaks more than a dozen words about a subject, but also because of how glowing he is in his review. The meat of it? From the Ledger:
"He's got a special mind — you're going to see it in New Jersey,
even if they're going to be young," Popovich said of Johnson. "He taught
himself what it takes to be successful in the league, and since then
he's taught others. He'll get a defensive mentality established with the
group. He'll get Devin (Harris) in attack mode. He'll adjust regardless
of what personnel they get there.

"You know I hate
superlatives, and how people exaggerate. I mean, the only 'geniuses' I
know are people who do medical research. So I don't want to overstate
this, but Avery has a brilliant basketball mind. I knew it way back
when, and I know it now."
So that's nice to have on your resume. "Hall of Fame coach thinks I'm awesome." 
There are sure to be questions about Johnson, and he faces an uphill climb. The Nets weren't nearly as bad roster-wise as their record indicated last season, and they have a high amount of potential to jump right back into things, depending on how the draft and free agency goes, but it was still a wretched team. But then, Johnson has seen his fair share of challenges throughout his career and has managed to turn in brilliant performances consistently. 
Just ask Popovich.