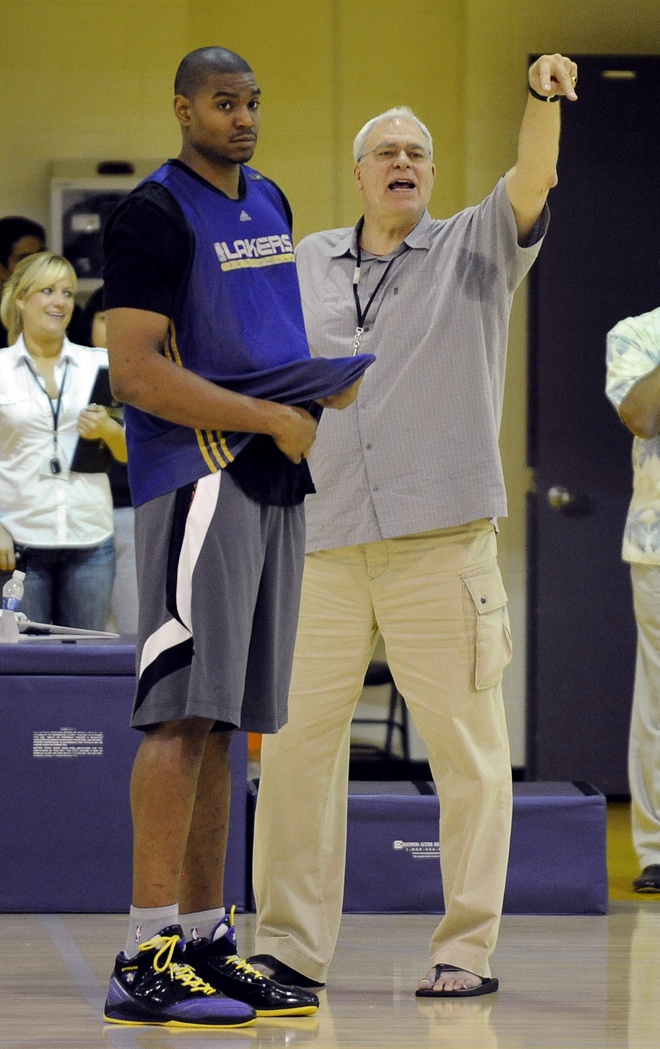 With Andrew Bynum's knee freshly drained and with his MRI showing no further damage, Phil Jackson expressed a desire for Bynum to play in Game 5. Bynum's listed as questionable as even though the damage hasn't increased, the amount of pain Bynum is in has. It's one of those weird things with the human body. When the tear was getting increasingly worse, Bynum said he had little to no pain. But recently it's been bothering him enough for him to be unable to play long minutes in the second half, even though there's no increase in damage.
Frankly, it's been amazing Bynum's managed to play at all on it, let alone as well as he has. For a player whose work ethic and toughness has been questioned by everyone up to and including Tex Winter, it's been a remarkable advance in his maturity. The question is, has Bynum reached the tipping point?
The Lakers are playing for an NBA championship. The highest prize they can obtain. This is the summit. There's no guarantee that with Kobe getting older along with the rest of the Lakers' core that they'll be back here. It's likely, of course, but not guaranteed, not like it was two years ago when Pau Gasol was first traded there. So there's a certain amount of sense in the idea that Bynum should leave it all on the floor to collect as many rings as possible.
Beyond that, however, is the fact that Bynum is 22 years old. He's got a whole career left in him. And playing on that knee is going to do further and further damage to him. With the advances in medical science, it's probable that he'll be able to bounce back completely and go back to having a stellar career. But this is his third knee injury in his short NBA lifespan. There's just as good of a chance that the continued damage he's doing by playing on it could shave years off his career, which could cost him significant money down the road. He's got two to three contracts left in him to play, and essentially, he's risking that to win his second ring.
It's what we always ask of players, to value victory over the money, but is it really the right thing to do?
Maybe the tear is such that further damage to it and the resulting surgery won't greatly impact his later career. Maybe Jackson is aware of it and trying to find a happy medium by playing him until it becomes too much and then yanking back on it as he did in Game 4. It's obvious that the Lakers truly do need Bynum to beat the Celtics. It's just such a dangerous game to be playing with the life of a kid that has so much left in him to give this game.