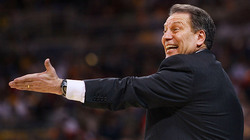 Earlier today, Izzo sent a text message to the Associate Press stating that he had not yet made his final decison. According to Plain Dealer writer Mary Schmitt Boyer, the players who attended the meeting came away with the feeling that Izzo "
would take the Cavs job.
" 
Izzo has indicated that he is "leaning towards the Cavs job" and is "sick of the college recruiting process." (An odd statement if Izzo does plan to take the Cavs job, as his first priority as the new head coach would be to recruit LeBron James.) It appears likely that Izzo will become the next head coach of the Cavaliers before the weekend ends, but it remains too early to be sure about anything.