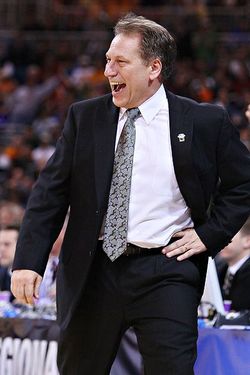 It was probably a lot like those time share sales pitches you suffered through to get those two free days in Las Vegas.
Tom Izzo has traveled to Cleveland and heard their hard-sell sales pitch. He talked with their people and toured the facilities (which he had been at before) while his family toured the city.
So he ready to decide, right?  Wrong. The Associated Press asked him when he landed back in East Lansing when he will be ready.
"It's not gonna be forever, that's for sure."
Well, that clears everything up.
It's clearly on Izzo now. Byron Scott is waiting in the wings, but owner Dan Gilbert wants Izzo. Owners get what they want.
It's not an easy decision. Izzo has a good life, is treated like a god among men in East Lansing. He gets paid well. But he'd get paid better in Cleveland. His ego would get stroked a lot more (so long as the team was winning, if not it gets kicked around). Winning on the big stage is like nothing else.
It comes down to, is Izzo willing to gamble on the return of LeBron James to Cleveland? It's a question only he can answer. Someday.