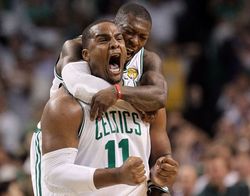 Make no mistake — Big Baby slobbered. He drooled. Just like a baby. On national television. For all the cameras to catch.
He doesn't really care. And if he can play like that again in Game 5, the entire city of Boston will drool right along with him. (I think the Southies already do.)
"Let me tell you something right quick," Glen "Big Baby" Davis said during his stand up routine and post-game press conference with Nate Robinson, televised on NBA TV. "When you're in the moment, you're in the moment.  If I slobber, snot, spit, please excuse me.  Kids, don't do that.  Have manners and things like that."
Didn't surprise Doc Rivers.
"I've seen that action before. It's usually after we run in practice," Rivers said.
Rivers will drool on national television for another performance like that.
Davis provided what Kevin Garnett has not really this series — a strong inside presence to match the Lakers. He had 18 points on 7 of 10 shooting. Davis was matched up on Lamar Odom — since Andrew Bynum was sitting — and just dominated him inside. Davis has the size to just back Odom down, but he is amazingly fleet of foot and athletic for a man his size. You can see where the comparisons to Shaquille O'Neal came from at LSU.
Drool on, Big Baby. Drool on.