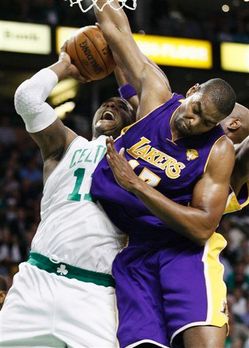 These Lakers were different. It's what we heard, it's what we saw. These Lakers were not soft, they would not roll over for the Celtics like two years ago. Right? And they didn't. For three games.
Then Andrew Bynum sat, his knee clearly worse for the wear. Then Game 4 got physical. Then for the first time in the series the referees let the teams play.
Suddenly, if you squinted just a little, it looked like 2008 again. Boston controlled the boards when it counted. Boston played with a real sense of desperation. Glen "Big Baby" Davis was the best big man on the floor — you really have to squint to think he is Kevin Garnett — and the Lakers bigs were pedestrian or worse. Boston was more physical, they pushed the Lakers around and they won Game 4. And the series is tied 2-2.
Needless to say, the Celtics liked the flow of this game.
"Extremely physical game but it was a clean game…" Rivers said. "Both teams were allowed to play. It was a physical game."
The Lakers were not allowed to play like they wanted, in part because of the aggressive Celtics post defense and in part because they lacked Bynum. He played 12 minutes — six at the start of the game and a couple other three minute runs — but he hobbled and was slow. In the first few minutes he got an offensive rebound right under the basket and tried to go back up — a shot he normally dunks with authority. This time he could barely elevate and Kevin Garnett blocked his layup. It was that kind of night for him.
Bynum said after the game the swelling is the worst it has been, limiting what he can do, but that the pain is about the same. He also said he was disappointed but planned to bounce back for Game 5. (Kobe added they need him to.)
Without Bynum, the matchups switch. They revert to 2008 inside. The very physical Kendrick Perkins gets to cover Pau Gasol (he still had 21 points but just six rebounds) and puts Kevin Garnett on Lamar Odom (he had 10 points and seven boards).
When the benches came in, Davis got matched up on Lamar and just owned him inside. Davis used his strength to get what he wanted. At the other end, the much quicker Odom was hesitant to attack Davis off the dribble until late in the game, when the Lakers got desperate.
The biggest difference was on the glass. Boston grabbed the offensive rebound on 34.8 percent of their missed shots in Game 4. This was not something they were good at during the regular season, grabbing just 22 percent (28th in the league). Tonight they owned it.
Kobe Bryant had a good game — 33 points on 10 of 22 shooting and 6 of 11 threes — but he could not get going late and take over. He also had seven turnovers. Boston is doing a good job forcing him left and having help ready. He was not able to drive the lane as he did in Game 1. His threes heavily contested. He and Gasol also got tired, as Phil Jackson said after the game, which happened because Jackson did not trust his bench.
In Game 5 the Lakers know they need Bynum back. Not the full strength Bynum, they'll take the one from a week ago.
"We're glad we have a couple days off to get him back hopefully in a position where he can help us out again" Phil Jackson said.
They will need him. They will need Kobe late. They will need a sense of desperation. Because Boston has won one game in Los Angeles and if they go ahead 3-2 they know they need to win just one more. They are starting to feel like it is 2008 again.