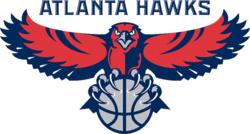 It's always the one right under you nose that you don't notice. Until you do.
The Atlanta Hawks have promoted assistant coach Larry Drew to the head coach position, according to multiple reports. Yahoo was first, plus there is one on NBA.com, so, we can probably trust it.
It's an interesting choice. After Mike Woodson was let go, the Hawks talked openly about needing a new direction and a new voice. Then they went with the man who was Woodson's lead assistant for the past six years. Either they didn't want that dramatic a change, or Drew convinced them that he was that change, that what he learned from Woodson was what not to do.
Drew reportedly had the support of a number of players. Also, as this is his first-ever head coaching job after 16 years as an assistant, he likely was the less expensive than other candidates being considered.
The Hawks front office and owners — all nine of them — were meeting today to get on the same page on the coaching search and make a decision. Apparently they had been leaning toward Avery Johnson, who took the money and lower expectations (for now) of the New Jersey Nets instead.
Drew beat out Mavericks assistant Dwane Casey and ESPN/ABC analyst Mark Jackson for the job. Both of those men are rumored to be in the running for other head coaching gigs, including for the Clippers.
Drew had a 10-year NBA playing career before becoming an assistant. Most recently he worked under coach Woodson, who was allowed to walk as his current contract expired (the polite way to fire someone).
Final contract details are still being hammered out, but once the lawyers are done the contract will be signed.