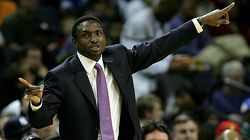 When Avery Johnson got his new coaching job — a coveted one, head man for the New Jersey Nets — the natural thing to do was to bring up his coaching record in Dallas. Three plus seasons, .735 winning percentage, two 60 plus win seasons, took a team to the NBA finals.
But that job was nothing at all like this job. At all. Nets fans should take the classic the stock-market warning to heart: Past performance is no indication of future success.
It is almost impossible to compare what Johnson did in Dallas to what he will be asked to do in New Jersey, which our own Rob Mahoney pointed out at his own Dallas Mavericks blog The Two Man Game.
Unlike just about every other rookie coach, Avery was pretty much handed a contending roster. When Johnson took over for Don Nelson mid-season in 2004-2005, the Mavs were 42-22. Not too shabby, and even more impressive given that Dallas had traded for a new point guard prior to that season in Jason Terry, and liquidated Antawn Jamison for Jerry Stackhouse and the draft rights to Devin Harris. By the time Avery took control of the team, the life-after-Nash growing pains had mostly subsided, as evidenced by the team's 16-2 sprint into the playoffs.

All of this is to say that Avery has never really made a team successful. He's either a talented coach or a hell of an opportunist, but without seeing him coach another team with a different roster, we'll never really know for sure.
We're about to find out.
The Nets have some nice building blocks — a borderline All-Star center in Brook Lopez, a quality point guard in Devin Harris, whoever the No. 3 pick brings plus other good pieces to start with. But this is a roster that won 12 games last season. It is a building process. It is a team that needs to be coached up.
We know he can coach a contending team well during the regular season. (The playoffs? Up for debate.). But that is not what he is doing now. This is something completely different.