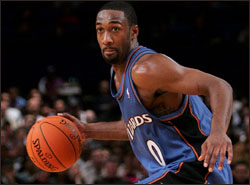 Ted Leonsis, the new owner of the Washington Wizards, wants to give Gilbert Arenas another chance.
He's said it before, and he said it again during his introductory press conference Thursday. The brilliant Dan Steinberg at the D.C. Sports Bog (part of the Washington Post) has the quote.
"There will be a time when we should spend quality time with me and with Gilbert," Leonsis said. "Gilbert is the biggest asset that the Wizards have in terms of contract. And statistically, if you looked at his contribution, he is a great player. Both as being a star, and also his productivity.

"And last year was a very difficult year for the organization, and for Gilbert and for just everyone around it. And so one of the first things I did was reach out to Gilbert. And we have had several conversations, and now we're e-mailing back and forth.

"And it think it's very important that Gilbert be re-embraced as a person and as a player. So suffice to say that Gilbert knows that the most important thing for him to do is to get in shape, and to be a great teammate, and to be a pillar of our community, and that he will show atonement. But his major deliverable is to come back and be a great part of this next generation Wizards franchise and what we're trying to accomplish.

"And what I feel comfortable with is that we communicate very well, and he knows the expectations. And I kind of liked him, you know? And so that's a first part of it, if you have mutual respect and you like each other and you can communicate. So I think we're gonna be ok."
Leonsis is being big hearted. He also really has no choice.
Arenas is owed $80 million over four years and nobody is taking on that contract. The Wizards are stuck with him. And he can still ball when healthy. He has played only 42 games in the last three years, but before the gun-related suspension last year he was scoring 22 .6 points per game and keeping up a solid shooting percentage considering the crazy amount of the offense he had to take on (a usage rate of 31.9 percent, which would have been in the top 10 in the league).
He could be a good fit along side John Wall. The Wizards are going to embrace him and pray that he can.