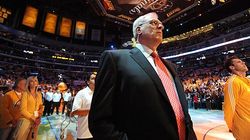 The thing is, Phil Jackson doesn't really know what Phil Jackson is going to do next year. He may have a leaning, but he's not telling T.J. Simers no matter how many times he asks.
His return to the Lakers has always been more about his health than salary or other opportunities, and he said as much in an interview with FanHouse today.  Don't forget, Jackson has had both hips replaced (that's the reason for his
sideline throne). This summer, he might have to have knee surgery. He
has the body of a man that played professional sports a few decades ago
and the wear-and-tear is catching up with him.
He also said he will let the Lakers know within a week of the finals ending his plan for next season.
"As soon as the season is over, within a week, I'll have some answers," Jackson said Thursday in an interview with FanHouse. "It has to be real short."

"I told Dr. Buss I don't want to sit in a situation that happened with George Karl," said Jackson, a free agent after the season. "I think that's putting a team under jeopardy and those are things that are my responsibility to do to make sure there's nothing lingering here that I can find. So that's my first priority, and then I'll give him an answer within a week."

"I have a timetable after the season," Jackson said. "Go get medical reports and sit on it and think about it for a couple of days and come back with some answers. … (Jackson's health issues) are the priorities. Then after (Jackson gets the medical reports), that's a decision I'll do or don't (want to coach). If I do want to or I don't want to."
As has been the case all season, people around the Lakers have the feeling Jackson will be back. This is as healthy as he has been during a season and playoffs. Plus, he is a competitive person and it will be hard to walk away from a team capable of winning more titles (regardless of how this finals ends).
He will likely be back. But predicting anything with certainty around Jackson is impossible. As it will be with this.