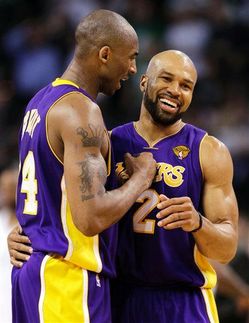 Over the final six minutes of the fourth quarter in Game 3, the Lakers leaned rather heavily on an unconventional set: the 1-2 pick-and-roll, in which Kobe Bryant wold set a high screen for Derek Fisher (or sometimes vice-versa).
Some teams feature 1-2 pick-and-roll plays regularly in their offense, but it just isn't a set that makes a ton of sense for the Lakers. For one thing, Fisher isn't a point guard that can explode off of screens, mostly because at this stage in his career, he can't really explode at all. Fish's forays to the basket are typically thinly-veiled attempts to draw a foul and get to the line, and while there's not necessarily anything wrong with that, it's not a go-to offensive sequence late in a close game.
The 1-2 is also a bit odd to see considering that Fisher's shooting is typically only effective in spot-up situations. Derek just isn't particularly good at creating his own shot off the dribble, even if he can knock down an open three with the best of them.
Game 3 was apparently a bit of an exception, as Fish hit a number of tough shots on the move in the game's final minutes. A runner on the right wing, a pull-up on the left with contact, and a few prayers answered along the way; all of which are compelling reasons for the Lakers to be wary of going back to the 1-2 pick-and-roll extensively in Game 4, even if it was pretty successful on Tuesday.
It's extremely unlikely that Fisher would be able to make those tough looks he hit in Game 3 if given another opportunity tonight, and you can bet the Celtics will be better prepared than they were last time around. So much of its effectiveness is predicated on Ray Allen's inexperience defending screeners and Rondo's experience with shot-blocking big men as his screen partner. Factor in Boston's defensive changes in Game 4 and Fisher coming back to earth, and the 1-2 pick-and-roll seems like a relic of games past.
That is, unless Fisher and Bryant can flip the script on the 1-2, and use it to manufacture scoring opportunities for Kobe and the other Lakers. If the Celtics overcompensate to defend against Fisher's scoring — which is a bit of a long-shot admittedly, as Doc Rivers will no doubt instruct his team to surrender more of those contested shots to Derek if it means keeping the ball out of Kobe's hands — through instinctive rather than cerebral defending (the compulsion to run toward an open opponent with the ball can be overwhelming for some players), L.A. could again capitalize on the 1-2 pick-and-roll as an effective late-game strategy.