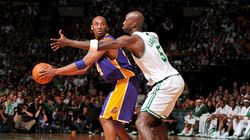 Kobe Bryant has not had a great NBA finals. Sure, he put up 30 points in Game 1 and 29 in Game 3, but he is shooting just 39.4 percent. He is not efficient. He got 29 points last game, but it took him 29 shots to get that.
Boston's defense is giving Kobe problems.
That shouldn't be a surprise, the Celtics defensive strategy has long been to take Kobe out of the game offensively, to get the ball out of his hands. (Pau Gasol sometimes gets the same treatment, although Kevin Garnett has been less effective in that matchup). The Celtics efforts on Kobe have continued this series.
"They are really getting up underneath him on his shot, so he is not getting a clear lift on his shot," Phil Jackson said after Game 3. "It keeps him from turning his body, he can't get the right turn and they are doing a good job."
Kobe's a scorer. He doesn't see it that way. But he also realizes that if two men stick to him, other guys are open.
"I wouldn't say they are defending me any differently, I would say we are a better team," Bryant said. "That enables me to continue to be aggressive, and put pressure on defenses. I made shots (in Game 3) in stretches, missed shots in stretches, a lot of them were tough shots with three seconds on the clock. But I think we're just a better team."
The Lakers have started to use Kobe as a decoy more — such as the 1-2 pick-and-roll he ran with Derek Fisher at the end of Game 3. Fisher got open looks — ones on the move that the Celtics will live with him shooting, but open looks — because when Kobe sets the screen nobody leaves him. There is no showing out by Kobe's man, he stays put. That allowed Fisher to turn the corner and penetrate.
Look for the Lakers to keep using Kobe in that way. To use him to spread the defense out, or to create lanes for others. Because the Celtics are not going to stop bodying him, sticking with him. They are not going to give him a chance to do to them what he did to Phoenix in Game 6 of that series. They are going to make another Laker beat them.
Kobe is betting that, compared to two years ago, the Lakers are a better team.