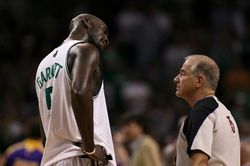 Plenty of people watching the NBA Finals have wanted to yell at NBA Commissioner David Stern about it.
Celtics minority owner Jim Pallotta did just that after Game 3. He confronted Stern and said the officiating was an embarrassment to the league.
That likely means a fine is on the way, and maybe a healthy one, according to the report in the Boston Globe.
Officiating has become a big story this series, with Paul Pierce, Kevin Garnett, Ray Allen, Kobe Bryant, Lamar Odom, Ron Artest and others having to sit because of foul trouble. The first two games of the series saw a 71 percent increase in free throw attempts over a regular season game (Game 3 was right at the norm). Game 3 saw multiple uses or replay on key plays down the stretch.
All I can say to Boston and Los Angeles fans is what every coach I ever had said when a team complained about officiating — stop whining and play better so the game is not in their hands. The calls late in Game 3 didn't cost the Celtics the game, their poor shooting night from the outside and inability to stop the 1-2 pick-and-roll late in the game did. The fouls on Kobe Bryant didn't cost the Lakers Game 2, their poor defense on Ray Allen early and inability to control the boards did.
Hopefully tonight we can just play Game 4 without the whining. And maybe with some better calls.