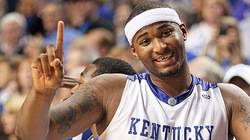 While the bright lights of the NBA shine on the Lakers and Celtics, the real work of the league right now is taking place in practice facilities, with college players going at each other under the watchful eyes of scouts and general managers.
It is draft workout season.
This is where teams bring in a variety of players who may be available when they pick, and put them through their paces. Usually they invite a couple players of a similar size and position to the same workout, to get a side-by-side comparison.
One that would have been amazing took place yesterday, when the Sacramento Kings — they of the No. 5 pick — had Derrick Favors and DeMarcus Cousins in. These are the two premiere big men in the draft at the same workout.
Favors likely will not be around when the Kings pick, the Nets are expected to take him at No. 3. Cousins is another matter, he is considered more talented than Favors but there are questions about his desire and work ethic. He showed up to the NBA Draft Combine looking heavy. Teams are unsure of the risk.
Which brings us to the Kings.
Our NBCSports mock draft has the Kings taking Cousins. Yes, they have Spencer Hawes and Jason Thompson up front, but neither of them has the skill or potential of Cousins. If his head is on right, Cousins could be one of the better big men in the game. But there is that "if."
The Kings might not have to make that choice. It would not be a surprise if the Timberwolves took Cousins at No. 4 (as DraftExpress predicts), leaving the Kings to select Greg Monroe out of Georgetown. Monroe can score, is the best passing big man in the draft and has a good basketball IQ. However, he's not much of a defender and his motor can shut off on that end of the floor.
Sacramento got its up-close look at Cousins, but they are a franchise that plays things very close to the vest, it is not likely we will know what they are thinking until David Stern walks to the podium with their pick.