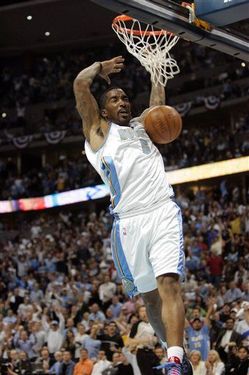 We already knew that J.R. Smith didn't have the best first-round series. Not only did the Nuggets lose to the Utah Jazz, but Smith only shot 37% from the floor over the course of the series. As it turns out, Smith's problems during the Utah series didn't just occur on the court. 
On April 28th, while J.R. Smith went 4-5 from beyond the arc en route to 17 points and a 116-102 win over the Jazz, somebody else was busy
robbing Smith's house
. 
The people at the Westword blog network have gone through documents provided by the Araphoe County Sheriff's Office, which provide some details about the robbery. When Smith and his "housemate/employee" Laquan Johnson returned to Smith's gated-community home, they found that it had been robbed. Here's a summary of Johnson's account of what he and Smith found:
-Smith's car had been broken into, and the garage door opener was missing. 
-Smith went to his room and found that four $1,500 Louis Vitton luggage bags were now missing, including one that had $15,000 in cash inside of it. 
-Smith also found that two watches had been stolen from his nightstand, one with a $200 value and one with a $5,000 value. 
-Johnson's room contained clothes taken out of their drawers and tossed all over the floor. A $45 Oakley sports bag containing $2,000 in cash was also missing. 
When speaking to the police himself, Smith said that he had "no idea" who might have robbed him. He also revealed that the $15,000 in cash was "gambling money." The security cameras that watch Smith's country club were not turned on during the night in question, which will make it extremely difficult for the authorities to figure out who robbed Smith. Like I said earlier, the last two weeks of April were flat-out unkind to Mr. Smith.