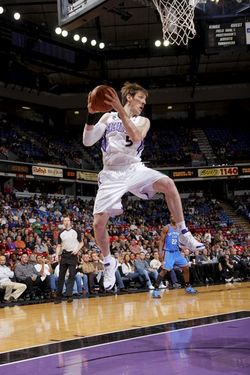 Don't be surprised if the Sacramento Kings are involved in a draft day trade, and look for Andres Nocioni to be in the package.
The Argentinean forward did an interview with Ole, an Argentinean sports publication. (We're surprised an Argentinean sports publication has time for basketball on the eve of the World Cup, but whatever. We found this via Hoopshype.)
He is very direct in his interview (the translation may be somewhat inexact).
"To the Kings I said openly I would not stay. They answered that they agreed, they would try to trade to a competitive team, first in the draft that comes in 15 days … I have to wait.

"Toronto? What I know about, not a bad option, but I will not talk about rumors…

"I have no concerns returning to Europe. I would not mind, on the contrary I would say … I've been six years in the NBA and I was never a fan of playing there. It's not like Luis (Scola) and Manu (Ginobili), who always dreamed of that. My dream has always been Europe…

"There is interest from Real and the Caja Laboral… but no offers, because it is forbidden."
Nocioni may want to leave, but he has two more guaranteed seasons on his NBA contract at $6.8 million a year, plus a team option for a third year. Nobody is eating that contract so he could go play in Europe, that idea is dead.
Nocioni had the worst shooting season of his career last year in Sacramento, down in all categories across the board.