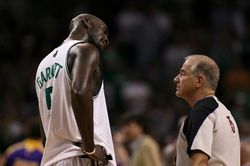 The star of the NBA finals Game 3 — just after Derek Fisher but ahead of Brian Scalabrine — was instant replay. The officials went to it constantly down the stretch of a close game. Good, because they got the calls right, sort of; or bad because it disrupted the flow of the game?
We've decided to go Algonquin Round Table to hash this one out. Myself, Matt Moore (the PBT weekend editor and a guy who is everywhere) and Rob Mahoney (also here and everywhere) discuss.
Kurt Helin: It looked like an NFL game out there late in Game 3. I was expecting Doc Rivers to throw the red flag on the court at one point. No doubt it messes with the flow of the game some, but this proved to me I want more replay. Lets get the calls right.
I say give the coaches two challenges to use per game outside of the last two minutes, and have the refs overturn some more stuff. What matters is getting it right. This isn't baseball.
Matt Moore: I suppose if we're going to go that route we're going to have to make one expansion with a limitation. You can challenge the overall result of the play, not just a specific element, and it's got to be done at a stopped ball, no more than one possession removed from the play in question.
An example? Doc challenging out on Rondo shouldn't negate the fact that Rondo was fouled. The question then is if you attribute the foul to him. We're getting in murky water there, though. A retroactive foul is such a huge deal because so many go on that aren't called (a zillion in an average Boston game and a googleplex whenever Andrew Bynum enters the arena).
My big thing is, man, we've got to do better about getting the call right the first time. Four blatant misses down the stretch. This after I thought Games 1 and 2 weren't so bad.
Rob Mahoney: The league could definitely use more replay, but how is 'challeng[ing] the overall result of the play' a limitation? That's opening up a huge can of worms, in my opinion, and you cut right to the heart of it, Moore.
Why should the challenging team really be penalized with an additional foul that wasn't called by the referees in the first place?
As you mentioned, Matt, there are fouls going on during every possession, from holds, to hand-checks, to the pleasantries exchanged by players fighting for post position. A referee, if so inclined, could choose to end every single replay review by calling a foul that wasn't seen the first time around, and that's game-changing in the worst way. Circumventing that requires the challenging of specific calls. It has to be "this out of bounds call needs to be reviewed," or "this blocking foul needs to be reviewed, it was a charge." It's not so easy to do that in every circumstance, but giving referees a remote control and free rein to revisit all of the calls they didn't make could be damning.
Where that line should be though, I'm not sure. Should foul calls even be reviewable? Or maybe only those that are actually called, rather than challenging a no-call? Technical fouls? Violations only? I'm not sure there's a good answer.
Kurt Helin: I don't think you can open up the Pandora's Box of foul's that were not called the first time. Even though you end up with plays like that out of bounds off Lamar Odom where it went out off him because of an uncalled foul on Rondo. That is the price. But there have to be definitive lines of what can and can't be reviewed. Charge/block is too subjective.
But what about a standard shooting foul? If Ray Allen goes up for a three and Derek Fisher is late closing out on him and is called for a foul, can you review if he did get him? To me that kind of thing can't be part of it, because it can be about camera angles, or how do you determine how much body contact there was? Especially with a foul in a scrum under the basket. So many foul calls are made in the shades of gray.
Moore is hits the nail with getting calls right the first time, and with that comes the old consistency argument. From ref to ref in the same game what is a foul on one end is not on the other. Touch fouls get called, guys knocked down and no whistle. Was there a clear line in Game 3 of what was and was not a foul? Paul Pierce sure couldn't find it.
Matt Moore: I think perhaps one way to solve it is this. If after review, a conflicting piece of evidence in the play would negate the reversal, the play stands as called. So basically, last night, Rondo's foul negates the incorrect call on the out of bounds, because given all the information, there is inconclusive evidence to overturn the call. Rondo doesn't benefit from the foul, and Lamar doesn't get screwed.
Reviewing the contact would be interesting, but that's one where I'd almost say you can only challenge ONE foul call per game. That would make it interesting. If you save it, and you KNOW your guy didn't foul, you could challenge. Also makes you wonder if you could challenge that you DID foul, re: Denver-Dallas last year with Antoine Wright.
I still think if we're talking individual plays, we're not falling victim to any specific problems more than the NFL. So while there could be a blatant foul going on off-ball. I'd recommend that only on-ball action can be reviewed.
Rob Mahoney: The one thing I think we're ignoring is how such reviews affect the game's natural momentum. That matters in terms of how we view the game, but even more importantly, how the game progresses.
Would challenges require the use of a timeout? Last night we saw a Doc Rivers timeout turn into a review that benefited the Lakers, which is an interesting twist. I think requiring teams to use timeouts to challenge plays would at least limit the disruptions in the flow of the game, both in terms of the viewing experience and each team's ability to halt the other's momentum. Otherwise, being able to challenge at any dead-ball situation could be a powerful weapon in the hands of any team, especially those on the road.
Can you imagine if a team could not only stop play during an opponent's big run, but also overturn a call that could act as a catalyst for their own? That's huge. There needs to be some kind of cost for teams to force reviews, should they be unsuccessful, and timeouts could be the best way to go.  
Kurt Helin: What would concern me is what we saw for a while in the NFL — gun shy refs. They seemed hesitant because of the potential overrule. NBA refs have enough problems without starting to second-guess themselves on top of it.
For that reason, got to just keep this limited — two (Matt says one, I could live with that) challenges outside the last two minutes of the half, and only challenge on certain specific calls. Only on-the-ball fouls.
Cool, now that the three of us solved the replay issue, let's just fix the CBA….