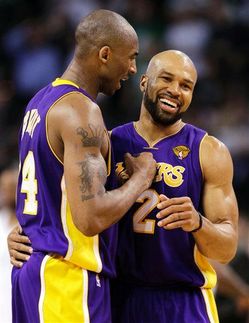 Here is the basics of the scouting report every team gets on Derek Fisher: Don't let him catch and shoot, particularly late in games. Make him shoot off the dribble, hit pull up jumpers, do that and he will miss.
So what did Fisher do in the fourth quarter of Game 3 of the NBA finals, with the game (and maybe the series) on the line? Hit a little running floater in the lane. Hit a pull-up, 10-foot jumper on the wing. Hit a spin to the middle one-dribble 15 footer. He a floating bank over Big Baby.
Derek Fisher has serious limitations to his game. He's not what he used to be. Except in the fourth quarter of big games.
He had 11 points in the fourth quarter of Game 3 and he is the key reason Los Angeles up 2-1 in the NBA finals.
"He won the game for them," Celtics coach Doc Rivers said. "Derek Fisher was the difference down the stretch."
The Celtics continued to play good defense. Well, they did in the second half. Boston takes away your first and second options. They are getting up into Kobe's body, and he is shooting under 40 percent for the finals. He had 29 points in Game 3, but needed 29 shots to do that. The Celtics will live with that. Boston also makes it hard for Pau Gasol to get good position, he had just 13 points on 11 shots.
But then there was Fisher in the fourth. The Lakers had success with Fisher coming off the Kobe Bryant pick out high — Fisher said afterwards it was because nobody leaves Kobe, giving him lanes to drive. Fisher did attack, and then before the defense got set he hit the shot. The ones he's not supposed to be able to hit.
It's a confidence thing — Fisher has a supreme belief in himself and his ability to make plays. It hurts him at times. There are bad-decision pull up jumpers in transition in February games that have Lakers fans screaming at their televisions. He gets criticized for it, for his age, for his defense.
And he never wavers. When he was in a shooting slump this season, he never admitted it and said he expected it to be different the next game. Every time. That confidence comes through on the biggest stages because he is still who he always is. He does not change, only the situation changes.
"(Fisher's) been criticized quite a bit for his age," Kobe Bryant said. "It's a huge thrill for him and all of us to see him come through in these moments. He's done it over and over and over again."
These playoffs he is doing it on the road — Fisher is shooting 37 percent at Staples Center, almost 52 percent on the road in the post season. He is hitting 39.5 percent of threes on the road. It's a confidence thing.
Fisher is a leader on this team, the positive ying to Kobe's intense yang. He is a big part of the locker room. He also is the guy Kobe will listen to, the guy Kobe trusts.
"We've been thorough it," Bryant said. "He can come to me and say, 'Kob, you're effing up.'"
This off-season, Fisher is a free agent and the Lakers have a decision to make. Lakers fans all season called for another starter at the point. But it is games like this that remind everyone why you want Fisher on your team when it matters most. Because the guy believes in himself. Because Fisher is nails.
Because he just wins.