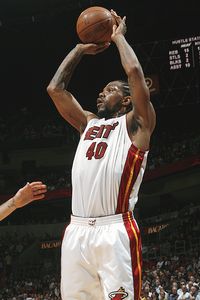 Priority one for the Miami Heat this summer is to bring Dwyane Wade back. The Heat aren't being subtle about that, either.
But they have another free agent they want back, too — Udonis Haslem.
To show him a little love, they threw a surprise 30th birthday party for him — bringing over 200 people to his house, according to Ira Winderman.
"I never knew so many people cared," Haslem said of the event. "In my 30 years, this is the best birthday I have ever had.

"Who would want to go anywhere else with an organization like this?"
Everyone was wearing black shirts that said "We Want U Back."
Haslem made $7.1 million last season and is an unrestricted free agent. He has said he wants to keep playing in Miami. The Heat have said they want him back, including when Pat Riley phoned him during the party.
There's just the little matter of the money. And in this economy, in this free agent summer, it's hard to predict how that will shake out.