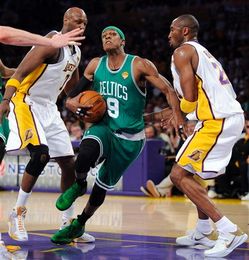 Rajon Rondo can be something of a mystery. In game one, Rondo looked like a relative non-factor. He only grabbed six rebounds, went 6-14 from the field, and totaled a good-but-not-great eight assists. He had his moments, but for the most part it looked like the Lakers had solved the Rondo riddle.
In game two, Rondo exploded for a triple-double. He pushed the ball relentlessly, and took over the stretches of the game when Ray Allen wasn't making everything he looked at. What did Rondo do differently in game two? Not much. Rondo's game two was more about what the Lakers did worse than Rondo did better.
Rondo is perhaps the deadliest counter-striker in the NBA. He can hold his own playing pick-and-roll in half-court situations, and is capable of making some beautiful floaters off the dribble, but he can still be contained if teams pack the paint on him and force him to rely on his mid-range jumper. It's in transition where Rondo becomes a force of nature. To contain Rondo, his opponents must limit the amount of transition opportunities they give to Rondo.
The most obvious way to prevent your opponent from fast-breaking is to keep your turnovers in check, and the Lakers didn't do a great job of that in game two. After turning the ball over only 12 times in game one, the Lakers made 15 miscues in game two. However, as Yahoo!'s Kelly Dwyer
noted earlier today
, the Lakers' increased turnovers weren't really the story: the Celtics actually got one fewer point off of Laker turnovers than they did in game one.
What really allowed Rondo to get loose in game two was the amount of three-pointers the Lakers missed. The Lakers aren't a great three-point shooting team, so they should never rely on the three-ball offensively. Against Rondo and the Celtics, settling for threes is a death sentence. 
Nobody is better at grabbing long rebounds and starting the fast break than Rajon Rondo. With his long arms, huge hands, and uncanny ability to know where a long carom his headed, Rondo is a master at grabbing rebounds that go over the heads of the big men crashing the boards. Once he gets the rebound, it's off to the races: in a recent Ian Thomsen Sports Illustrated cover story on Rondo, the Boston point guard said that a long rebound is "like the first pass on a fast break" to him. 
In game one, the Lakers missed six three-point shots. In game two, they missed 17. Rondo only grabbed two defensive rebounds in game one. In game two, he grabbed eight. Thanks to all those long rebounds, Rondo was able to push the ball. When Rondo pushes, it opens up driving lanes for him. When Rondo pushes, it gets tougher for the Lakers to cross-match. When Rondo pushes, it opens up Ray Allen and Paul Pierce for threes trailing the break. You see where I'm going with this. 
If the Lakers want to contain Rondo in game three, they have to keep him from getting out on the fast break. The best way for them to do that is to pound the ball inside, be patient offensively, and not settle for threes. Against the Celtics, it's not just a low-percentage shot: it's a low-percentage shot that leads to high-percentage opportunities for the Celtics.