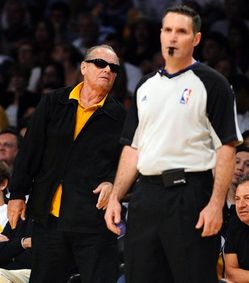 My plea has fallen on deaf ears.
After seeing 134 free throws through the first two games, after seeing the officiating and fouls called play a key role in both games, the announcement of the referees for Game 3 has led basketball fans everywhere to say, "Are you kidding me?" In Boston and Los Angeles, you can insert a few expletives into that sentence.
Your officials for Game 3: Bill Kennedy, Bennett Savatore and Danny Crawford.
Celtics fans are convinced Bill Kennedy has it in for them. The most public and recent incident is when Kennedy tossed Rasheed Wallace from a game against the Sixers in December (a game the Celtics lost). Last year he tossed Doc Rivers from a game then got in a staring match with him.
Bennett Salvatore? Phil Jackson got fined back in April when after a game he said you never know what you are going to get with Salvatore. Lakers fans are convinced that Salvatore has it in for their team — but that is a huge bandwagon. Everybody thinks Salvatore has it in for their team. Boston fans included.
So after two games of calling the game tight and not letting it look like an NBA finals, the NBA is sending out two of the most controversial referees in the league? Things will get interesting.
This is all a bit like the Tim Donaghy situation. Actually look at the data and it's clear Donaghy is full of crap. He doesn't stand up to any test. But it's about perception. People have long been suspect of NBA referees, and now a former NBA referee is saying they were right so they believe him. It's that simple.
When you break down the numbers, Kennedy doesn't call any more technicals against the Celtics than other officials do. But that doesn't matter, it's about perception. Celtics fans are convinced he does and will react that way.
After two tightly called games, two controversial officials are going to be watched like hawks and blamed for things beyond their control. But they also could well influence the game, as their peers did in the first two games. The good news, Crawford is one of the best out there. So it will not be three blind mice tonight