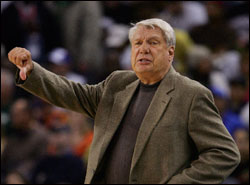 Don Nelson is in Maui right now.
For the record, I wish I were in Maui right now. I'd be a much better blogger in Maui. Or at least I'd have the best tan of any NBA blogger. Which really is a pretty easy honor to achieve.
But I am not the coach of an NBA team with the sixth pick in the draft. I am not going to have to figure out if I would prefer Greg Monroe or Al-Farouq Aminu or Wesley Johnson or Ekpe Udoh.
Don Nelson does. And despite this age of instant digital communications, usually teams do a lot of the key draft prep with the coach, general manager, scouts and others in the same room.
But the San Jose Mercury News is reporting Nelson is not to be seen around the Warriors compound. And that says more about how the sale of the franchise is progressing than anything else.
Nelson, who was a very visible part of the Warriors' draft prep the last two years, by all reports has remained in Maui as the team has gone through the first wave of draft workouts.

It's not so much Nelson checking out as Nelson reading the room: Once the team is sold, he will no longer by the Warriors coach. He is o-u-t, and he knows it. (General manager) Larry Riley will be out, too, but he has to keep working through the draft process because that's his specific job.
Looks like the sale is moving along pretty well, if this is any indication.