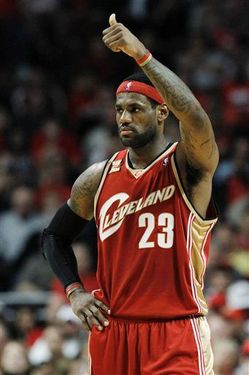 The Cavaliers are doing a little coaching tango with Tom Izzo, Michigan State's legendary college coach. An offer is on the table, according to reports.
But Izzo's no dummy — he's not going to sign up for a rebuilding project in the NBA. He's only making the leap if he has a shot at a title.
He'll only come if LeBron James stays.
LeBron James may not stay if the Cavaliers can't hire a quality coach.
And welcome to the Cleveland Catch-22.
No coach of any note is going to come to Cleveland unless he knows that LeBron James is inked. Not Izzo, not Phil Jackson (who isn't coming anyway), not Jeff Van Gundy (who isn't coming anyway), not anyone. Without LeBron the Cavaliers are going to rack up an awful lot of lottery ping-pong balls next year. It's an entry level NBA coaching job in a mid-level market without LeBron.
LeBron wants to see a commitment to winning from the team. He wants a team that can contend around him. Part of that is the coach — he wants to see a quality coach brought in that can guide this team to the next level.
If it happens in Cleveland, it will have to be some kind of package deal with a top coach and LeBron. Likely all negotiated in back rooms by William Wesley. Because neither side would move for sure without the other.
Meanwhile the Bulls go out and get the sexiest assistant coach on the block, a big name in NBA circles if not to the average sports fan. But he fits what they want to do. He can build a defense in Chicago that can win titles. Chicago is doing what it thinks is best, with or without LeBron. They are an organization that knows what it wants to be.
That has to be pretty attractive to LeBron.