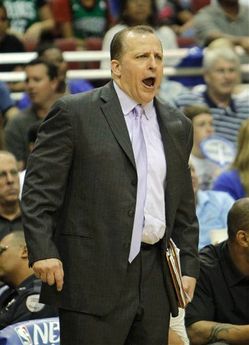 Current Boston Celtics assistant coach and soon-to-be Bulls head coach Tom Thibodeau was the mastermind behind the defense that rendered LeBron James ineffective for long stretches of the Eastern Conference Semifinals. Thibodeau is also represented by CAA, which gives him ties to LeBron's representation as well as his mentor, the mysterious and powerful William Wesley. 
Despite all of that,
Melissa Isaacson of ESPN Chicago
is reporting that a few people "close to James" informed the Bulls that the hiring of Thibodeau would not impact LeBron's decision regarding whether or not he will sign with the Bulls one way or another. According to the article, James has privately let it be known that he does not want to be part of coaching decisions for any team unless they involve "someone he really did not like." 
Several outlets have noted that Thibodeau signed with the Bulls shortly after he agreed to be represented by CAA, but the Bulls organization is adamant that Thibodeau was one of their man targets from the very beginning of their coaching search. After the Celtics took a 3-0 series lead in the Eastern Conference Finals, the Bulls made plans to interview Thibodeau shortly after the series ended, but the Magic taking the series to six games threw a monkey wrench in those plans. The Bulls management team ended up having to rush to Los Angeles to interview Thibodeau, and made the decision to hire him shortly after that interview. 
It's unclear whether or not Thibodeau is the kind of coach LeBron James would want to play for. Of all the coaches who will start new jobs next season, only Thibodeau has had recent success at the NBA level, and championship success at that. Thibodeau's defensive schemes are ingenious, and he's proven that over a decade of defensive success with the Celtics, Rockets, and Knicks. With Thibodeau building a defensive scheme around Joakim Noah and LeBron James running the offense, the Bulls could get scary good very fast. 
However, Thibodeau's resume — defense-first former assistant with a championship team — reads a lot like the resume Mike Brown had before he was hired as the head coach of the Cavaliers. The Cavaliers were perennial contenders under Brown, but he never did get them over the hump, and LeBron may be ready to play for a more offensive-oriented coach. 
The bottom line here is that while other top coaching candidates have been looking at potential college recruits or talking about basketball on TV, Tom Thibodeau has been coming up with defensive schemes that beat the Cavaliers, beat the Magic, and took one game from the Lakers in Los Angeles. He deserved a head coaching job regardless of whether or not him and LeBron hang out at the same parties.