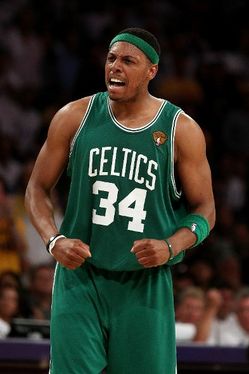 Let's get the facts out of the way first:
With 1:12 left in Game 2 and the Celtics up by seven, Paul Pierce came over to help Kevin Garnett up off the ground and said:
"We are not going back to L.A."
Here is the video, via Sports By Brooks, and Pierce is clearly saying it.
Some Lakers fans are taking offense at this. Some Celtics fans are taking this as a sign of the confidence of their team to take the whole thing. Both fan bases are delusional (which we knew going into this series).
So, in the heat of the moment, Paul Pierce talked trash. His team was about to even the NBA finals on the road, and he was pumped up and talking smack to a fan.
So what? Athletes stay stuff in the heat of an intense game all the time, things that are far worse. To fans, to refs, to each other. Pick up games at the Y have worse trash talk, let alone what gets said on the interior of an NFL line.
But, some microphone picked this up and it is a story. Look, the 2-3-2 NBA finals format punishes the road team something fierce. Winning three games in a row — even at home — against a quality opponent is a real long shot. The Lakers are going to win one of the games in Boston, at least. What, you think a Rondo triple-double and a Ray Allen three-point record are going to happen nightly?
Then the Celtics will have to win one more on the road. Probably a Game 7. And that's what we all want to see anyway. Whatever Paul Pierce says during a game.