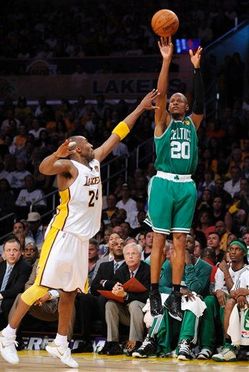 Ray Allen's shooting performance last night was positively scrumtrulescent, but leave it to the hard data to put a damper on things. In light of Ray's finals record-breaking evening (and some prodding in a piece by Henry Abbott at TrueHoop), Neil Paine of Basketball-Reference.com dug into history books to ascertain just how often three-point shooters record seven consecutive makes, and whether or not Allen nets those streaks more than most shooters. Here's Paine with the results of his search:
So if you hit 40% of the time and take 6,678 shots, you can expect to
have about 6-7 stretches (6.5, technically) in your entire career where
you have seven or more makes in a row. Also, you'll have at least one
stretch like that in your career 99.9137% of the time — in essence,
this means a "true" 40% shooter is virtually guaranteed to
have at least one run like Allen's in his career due to chance alone.
These stretches can come in one half, one game, or even across multiple
games; in fact, we find that the best streaks of all time (Brent Price & Terry Mills in 1996, not coincidentally when the arc was shorter) made their 13 straight across several days.
It takes quite the shooting stroke to sink 40% from three over that many attempts, but the fact that shooters such as Allen are virtually assured seven consecutive makes still comes as a bit of a surprise.
There's obviously a difference between making seven consecutive three-pointers in a game vs. a series of games, plus a difference between making them in a regular season game vs. a playoff game, and certainly a difference between making them in a playoff game vs. a finals game. That's why Allen's shooting in Game 2 is treated with such reverence; even if such a streak was bound to happen at some point in Ray's career, the timing could hardly have been better, and the fact that Allen was especially prolific over such a short period of time is just gravy.