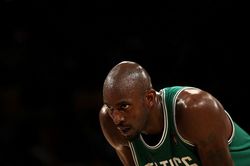 After Ray Allen was plagued by foul trouble in Game 1, it was Kevin Garnett's turn to fade into the background as the calls piled up against him in Game 2.
KG's final stat line — six points, four rebounds, and six assists — is probably too rosy a representation of his overall impact; Garnett would occasionally make a play of some import, but for the most part, Kevin was invisible. That's not what the Celtics have come to expect from Garnett in these playoffs, and Boston will need something more if they're going to really put pressure on the Lakers.
Boston's overall defense was improved from their Game 1 calamity, and Garnett does deserve some credit for that. In terms of his ability to function defensively in a team setting, KG wasn't exactly awful.
Still, his one-on-one defense was poor yet again, which says as much about the superior play of Pau Gasol and Andrew Bynum as it does about Garnett's ineffectiveness. This is not the best defense Kevin is capable of playing, and whether it's a "lack of explosiveness," a bad match-up, or anxious whistle-blowers that ail him, he desperately needs to make some kind of impact in future games.
Ray Allen is not going to shoot 8-of-11 from three every night, and Kobe Bryant won't always go 8-for-20 from the field. Ron Artest won't always be such a possession-killer, and Rajon Rondo may not always rack up a triple-double.
Even if the things didn't go perfectly for Boston (Paul Pierce's performance in particular left a bit to be desired), a lot went right. Certainly enough to off-set superb outings from Gasol and Bynum. The only problem is that aside from a nice feed to Kendrick Perkins here or a big make over Ron Artest there, Garnett really wasn't a part of it.
Expecting KG to best Pau Gasol would be a bit much, but it would certainly be nice to see him do more than simply dress out. He wasn't inefficient and he didn't hurt his team while he was on the floor, but Garnett seems an awfully uncomfortable wallflower.
It's nice for Boston to take a game even without KG's help, but the disappearing act needs to stop now. If anyone can find the Kevin Garnett that completely shut down his defensive assignments in the first three rounds, tell him to come to the front of the store: his teammates and coach are looking for him.