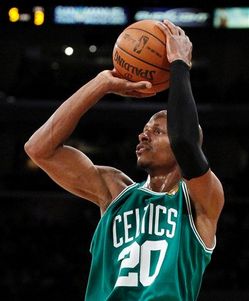 In June 1992, Ray Allen was doing what every other basketball crazed 16-year-old in the nation was doing — watching Michael Jordan rain threes on the Portland Trail Blazers. Six of them in Game 1 of the finals. Leading the Bulls to a crushing of the Trail Blazers.
Tonight, Ray Allen was better than that. He was better than anyone has been from deep in the finals.
Others had bested MJ for a night, too. Scottie Pippen hit seven threes in the finals once, so did Kenny Smith. But those guys were both secondary scorers on a team — they were the outlet when the main man was covered. They were not the guy expected to carry the load. They were not 34 years old at the time.
Allen is those things, and he carried the load like Hercules. He was better than Pippen and Smith.
Allen started 7 for 7 from three and finished 8 for 11 from beyond the arc. More threes than any other player has ever made in a finals game. He carried Boston though the first half with 27 points, and the Celtics went on to win 103-94 to even the series.
"Mike, I'm going to tell him his were a lot easier," Allen joked.
Three nights before Allen wasn't joking around. He was frustrated; he had been sitting with fouls. It made him a little tentative. He became a facilitator, not a shooter, and the Lakers won comfortably.
Sunday night Allen was running off the multiple screens he always get and there just seemed to be more room. His first couple threes were good looks, and he got in a rhythm. And when one of the greatest jumper shooters ever to lace up a pair of high tops gets going, there is nothing anyone can do. He had 27 first half points and almost single-handedly kept his team in it.
"Well, it makes me a better coach, I can tell you that," Doc Rivers said of Allen's jumper. "And when you draw up these plays and he makes them, you feel a lot smarter."
The only way to stop Ray Allen when he gets like this is to get the ball out of his hands, but the Lakers are poorly matched up to do that. Because Los Angeles puts the longer Kobe Bryant on Rajon Rondo, Derek Fisher has to chase Allen around all those picks. Fisher is not that fast and Allen has a few inches and can shoot over him easily. Fisher's strength is to be able to bump people off their line, but Allen got to any spot he wanted on the floor.
"Well, you know, when (the referees) take away any bumps, when Fish is trying to make (Allen) divert his path and they don't allow him to do that, they call fouls on Fish and that really gives him the opportunity to take whatever route he wants to make off the pickers," Phil Jackson said, longing for the days of the legal hand check. "That makes it very difficult."
In the second half the Lakers adjusted, switching a big off onto Allen as he came off a strong-side pick, forcing Allen to shoot over the long arm of Andrew Bynum or Pau Gasol. It worked, Allen was just 1 of 3 and had an airball from deep in the second half.
But it opened up other things for Boston, because on the switch Fisher had to guard Big Baby or Kendrick Perkins in the post. Then there was Rondo, who was taking the game over on his own in the second half.
But by then the Celtics were in a groove they never got in during all of Game 1. You can thank Ray Allen and one of the best shooting games ever in the finals for that.