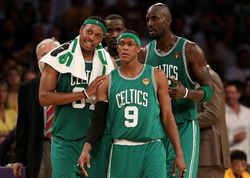 In Game 2, we saw the series we hoped we would get. Both the Los Angeles Lakers and Boston Celtics put in huge performances in a back and forth affair that featured tremendous individual efforts on both sides of the green and yellow divide. Unfortunately, this meant that one team was going to be left with a disappointing waste of a phenomenal game under the biggest of circumstances.
When the Lakers made a strong start to the second half, it looked like it would be Ray Allen's phenomenal shooting performance that would be for naught. But after the buzzer sounded, Andrew Bynum finished as the player who unfortunately had to watch his best work go unrewarded.
Kobe Bryant? 21 points on 20 shots.Pau Gasol? Four field goal attempts in the second half, despite leading all Lakers with 25 points. No huge veteran play from Derek Fisher. No X-Factor play from Shannon Brown.
But Andrew Bynum showed up to play. Bynum had arguably his most important game as a Laker. He was dominant. The drop hook, working. Tenacious on the glass. Seven blocks to go with 21 points and six boards. And it wasn't just the numbers. He was the answer for the Lakers on possession after possession, battling and battling and forcing the Celtics to recoil from the sheer force of his aggression. It was the kind of performance we've been waiting to see from Bynum as he constantly forced us to second guess him with his work ethic and injury history. That he accomplished all this on a torn ligament in his knee is simultaneously impressive and depressing. That he accomplished it in the loss is just depressing.
But there was of course a flip side to the bad news. The victors had their share of heroes, chief among them the cyborg Ray Allen (who we told you about earlier) and Rajon Rondo, returning to the triple double hall with 19-12-10 and 2 steals for good measure. It should be noted it took Rondo 18 points to score 19, but hey, a triple double is a triple double. (Unless it involves turnovers, in which case it's a cruel joke.)
Rondo's postseason was summed up perfectly on a possession late where repeated Glen Davis misses resulted in another loose ball. Rondo snatched it out of the air for another huge offensive rebound and immediately went up for a putback. It was exemplary of Rondo's approach tonight, which was playing the numbers game. He gambled that going to the rim was better than not going to the rim and if he kept going, good things would happen. What's odd is that his arguable biggest shot was a pull-up jumper late that seemed to dagger the Lakers' hearts.
So now the series is tied, and the Lakers are faced with an interesting double edged sword. Frustrated because they gave up homecourt advantage and wasted a huge effort from Bynum. Comforted because it took two phenomenal efforts from Rondo and Allen to put it away in a tight one.
The battle rages on.