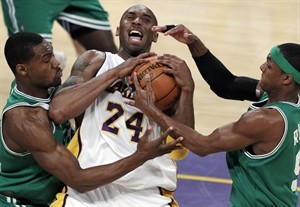 Coming into Sunday night's game, Kobe Bryant had scored 30 or more points in 11 of his last 12 games. He had not shot 40 percent or lower from the field since April 22nd. He didn't just defeat the Jazz and the Suns; he completely demoralized them with tough shot after tough shot. In the twelve games between his thirteen-point performance against the Thunder and the start of the NBA finals, Kobe looked nothing short of unstoppable.
The Celtics were hoping that their vaunted defense would be able to take Kobe out of his comfort zone in a way that Utah and Phoenix couldn't, but Kobe sliced through their rotations with ease en route to a 30-point game one performance. After game one, it looked like Kobe's campaign of destruction was going to keep right on rolling until he was holding the Bill Russell trophy for the second time in as many years.
But something changed in game two. It wasn't that Kobe stopped looking like Kobe; he still knocked down the shot almost every time he got a decent look at one, made some beautiful passes when the Celtics threw multiple defenders at him, managed to bother Ray Allen when he switched onto him late in the second quarter, and made one of the best plays of the playoffs when he stole the inbounds pass and hit a contested three at the end of the first half. Kobe missed a few shots he's more than capable of making, but for the most part Kobe looked like Kobe. The only thing that changed in game two was that the Celtics defense looked like the Celtics defense. 
In game one, Ray Allen found himself on the wrong side of the line that separates physical play from rampant fouling. In game two, he made the necessary adjustment, and managed to bother Kobe all night long while only being whistled for three fouls. Instead, it was Kobe who found himself on the wrong side of the rulebook; Bryant committed five fouls in game two, and was limited to 34 minutes of play because of foul trouble. 
When Kobe caught the ball, Allen was right there to contest him. When Kobe tried to make a move, Allen was there to bump him just enough to throw him off his balance. When Kobe rose up to shoot, Allen made sure that Kobe's momentum was carrying him away from the hoop, and that there was a hand in his face. Like Shane Battier in last year's playoffs, Allen seems to be able to occasionally make Kobe uncomfortable on the perimeter without having to take crazy gambles or trying to be overly physical. 
Of course, it wasn't just Allen who kept Kobe from going off in game two. When Kobe caught the ball in the mid-to-high post area, there were at least three or four pairs of Celtic eyes trained on him. When he tried to post up on the wings, the Celtics frustrated him by bringing fast, aggressive double-teams from the top. When he turned into the paint, there was a Celtic in position and waiting for him. By keeping Bryant in front of them at all times and cutting off Kobe's passing lanes, the Celtics were able to turn the Laker offense into Kobe vs. The World.
After the game, Phil Jackson had this to say about how Boston limited Kobe's ability to get where he wanted to go with the ball:  "Well, they got on him and made him go left all the time. There were not letting him come back to his right hand, shoving him to the left then going to help when he started to push the ball. That changed things up for him. He still figured it out pretty well toward the end but couldn't complete it." Bryant is as good as any player in basketball at driving to his off-hand, but even Kobe can't take apart a defense like Boston's without being able to drive to his strong side. 
When Tony Allen guarded Kobe, he used his athleticism and length to keep Bryant from catching it where he wanted to catch it, then played wildly aggressive defense on him to force him to drive into the help. When Rondo guarded Kobe, he used his superhuman length and quickness to go straight at the ball, and was able to make a couple of key defensive plays by doing so. It takes an entire team to (try) and defend Kobe Bryant effectively; on Sunday night, every Celtic was up to the challenge.
When the Celtics played LeBron James and the Cavaliers, their strategy was to wall off the paint, cut off LeBron's drive-and-kick opportunities, and force James to beat them by shooting from the perimeter or playing off the ball. When the Celtics faced the Magic, they chose not to over-help on Dwight Howard, instead staying at home on Orlando's shooters and making them run the offense through Howard. Both strategies worked perfectly, and that's just another reason why Tom Thibodeau now has an NBA head coaching job
Against Bryant, the most complete offensive player in the game, Boston's strategy seems to be this: if you want to defend Kobe Bryant effectively, you have to be the aggressor. It doesn't matter how fundamentally solid your defense is, or how well you contest Bryant's looks — if you let Kobe operate on his own terms, he will find a way to absolutely destroy you. It can be from three, from midrange, in the paint. Left hand, right hand, busted right hand. In the post, off the dribble, catch-and-shoot. If you let Kobe pick the game, he wins. Boston made Kobe react instead of giving him that luxury, and it helped them get the series split in Los Angeles. 
The battle between Bryant and the Celtic defense is very, very far from over. Kobe will come out guns blazing in game three, and could easily hang 30 or 40 on the same defense that gave him trouble in game two. There's no way to stop a player like Bryant; the best you can do his hope to slow him down. On Sunday night, that's exactly what Boston was able to do.