Someone is going to overpay Rudy Gay this summer.
Don't get me wrong, Gay is a good player with the potential to be damn good, he's a quality get. But some team that missed out on the LeBron/Wade/Bosh sweepstakes is going to set their sights on Gay as someone they can sell to fans. Then they are going to remember that Memphis owner Michael Heisley has said he will match any offer to keep Gay a Grizzlies.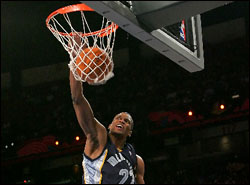 So some team will make an offer to Gay they think Heisley will not match. They will overpay him.
The Minnesota Timberwolves will be in the "going after Gay" line, according to the Memphis Commercial Appeal.
This makes some sense — the triangle offense requires a strong wing player, in the mold of Michael Jordan and Kobe Bryant. It needs a lot of other things, too. Things that Minnesota doesn't have. But Gay makes some sense in the system and fills a need.
But the price for Gay may end up being steeper than Minnesota — or any rational team — is willing to pay. You can bet, though, that someone is going to pay it.