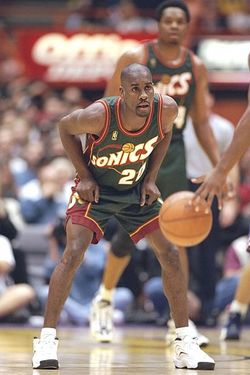 After he retired, Gary Payton went to Vegas. And settled down.
Sounds like an oxymoron to people who have only spent a drunken, ultimately penniless night on the strip. But Vegas has grown into a big city, with suburbs and people who make their livings as dentists and mechanics and Thai restaurant cooks. People who rarely venture into the strip, and if they do it's just to see a show.
Payton has been living that quiet life in Summerlin, one of those suburbs. Just being a dad and a husband, having friends over to swim in the pool and play some darts.
But he tells the Las Vegas Sun he's thinking about getting back in the game.
"I basically said that when I was going to retire, I was going to take my time — I wasn't going to jump back into basketball," he said. "Now, it's about time for me to get back to what I want to do. I want to get a good job in coaching, move to a city where I think I can help younger kids and I think that'll be my next thing to do in the next year or so…."

One area where Payton sees himself as being potentially quite valuable to younger pros is in teaching defensive principles.
If anyone should be a good defensive teacher for young point guards, it's "the glove." The hand checking and other rules may be different, but the basic rules of defense are the same. And right now, a good defensive guard is a very valuable commodity in a league where so many offenses are based off dribble penetration.
Plus, it would just be nice to have Payton around the game again.