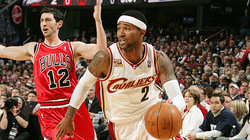 Cleveland needed to make some changes. It was pretty clear that the current formula worked great in the regular season but could be exposed in a seven-game series.
But damn, Cleveland. You won 60 games two years in a row.
Coach? Gone. General manager? Gone. Shaquille O'Neal? Probably gone.
Mo Williams? They'll trade him. Same thing with Delonte West, according to Brian Windhorst at the Cleveland Plain Dealer.
According to multiple league sources, the Cavs are testing the trade value for point guard Mo Williams, among other players. It is part of what appears to be an effort to tweak the entire backcourt, as Delonte West is also on the trade block.

These talks are being piloted, sources said, by new general manager Chris Grant. However, the decision to determine Williams' value could mostly be the result of the two weeks of in-depth conversations led by Gilbert on the state of the team. The products of those talks resulted in the firing of Mike Brown and Danny Ferry's decision not to seek another contract.
As always, this all about keeping LeBron happy. Mo Williams has been helping keep LeBron happy for a few years now, but now the goal is to keep him, to prove to him that the Cavaliers will do anything to win. And whatever he wants.
So if they can find value for Mo Williams out there on the market, they'll consider it. Really, they'll consider anything right now.
And rarely does that turn out well.