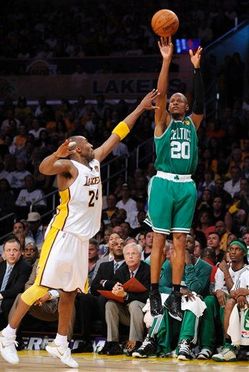 Welcome to the Ray Allen show.
Ray-Ray started out 7 of 7 from three, and he finished with 27 first half points on just 14 shots. Until his last three (a pretty open one) rimmed out, most of the crowd at Staples Center was convinced he is not human.
The Lakers did not close well on him for the first couple shots, and Allen hit the open looks. Then he was hot — even when the Lakers did close out, even when the long arms of Andrew Bynum was running out on him, he was hitting only the nylon. As a team, the Celtics hit 8 of 11 threes.
Yet at the half, they lead just 54-48. The Celtics let the Lakers get back in it late in the quarter, capped off by a Kobe Bryant steal and three to close out the half.
Both teams have reason for optimism.
The Celtics played like themselves again, their big front line taking away the easy buckets for the Lakers inside. Los Angeles shot just 36 percent in the half and was 1 of 9 from three. That fueled transition buckets and open court plays from Rajon Rondo that the Celtics lacked in the first game.
But for all that, the Lakers are just down 6. Gasol was 4 of 6 for 14 and expect to see a lot of him and Kobe in the second half.